WooCommerce Promotions: 21 Practical Tactics To Drive More Holiday Sales



The festive season is right around the corner. You are thinking about the promotions, aren't you? And you need a fresh dose of ideas.
You've been going from one blog post to the next and studying one competitor after the other.
Reading, lurking, exploring, wondering, head-scratching. The truth is you don't need yet another untested or unproven idea from the blue.
You need specific techniques and tactics for running promotions in your WooCommerce store.
In this article, I am going to cover highly effective strategies to make the most of the promotion season. I will also share with you the plugins you can use to configure the specific campaigns.
So strap on your belts and let's get started.

1. Promote The On-Going Sale & The Coupon Code On The Header Of Your Homepage
Share the most important information with your visitors first. In this case, the ongoing sale is the most important information.
Make sure it's well-highlighted on the home page and they don't miss out.
You can display the coupon code, countdown timer and the Call To Action button on the sticky header:

Click Here To Set Up: A Sticky header with countdown timer & deadline-bound coupon code in your WooCommerce store.

2. Segment Gifts Based On Their Price. Let Shoppers Select A Budget & Browse Gifts
Making a choice is hard especially when you're buying a gift for someone else.
Help shoppers make a faster decision on your site by segmenting gift items based on their budget.
Notice how Gilt has divided its items into four distinct price categories. You can pick your budget and you will be shown only those items that fit the chosen price range:

This page acts as a great conversation starter and can lead to faster decision making – which is every store owner's dream. Isn't it?
Click on this link to Set up budget-wise deals pages in WooCommerce.

3. Dedicate A Single Page To Promote All Your Holiday Deals
Put up a dedicated section for on-sale items. List all your on-sale items one below the other on a single page.
Take a look at Think Geek's section for Halloween discounted items:


With all the discounted items listed on a single page, it is easy for shoppers to navigate and get to the most relevant products fast.
Supercharge your promotions with dedicated WooCommerce deals pages & time-bound deals.
4. Write The Ultimate Holiday Gifting Guide To Help Shoppers Choose The Right Gifts
People seek help and look for gift ideas before the holiday season begins. Help them by creating an authoritative blog post with all the great gifting ideas.
Go ahead and plug your products unapologetically. They want guidance on what to buy and what items best fit their budget. There may be products on your site they haven't discovered yet, this guide will help them discover those items too.
Use Google to mine for ideas: 

You can pin this blog post, tweet it out, share on Instagram- basically promote the hell out of it.
Take a look at this pinned blog post on gifting ideas for infants:

5. Sell Out Limited Edition Products With Counter Bar
Are you launching some exclusive items during the festive season? If you do have plans to launch special items in a limited stock quantity, use the counter bar to sell out.
Share a real-time update on the stock status of those items. Here's how the counter bar will look on the product page:

Create a healthy dose of scarcity to trigger an urge in shoppers to make a purchase.
Click on this link to set up a counter bar displaying the stock status on your WooCommerce product pages.

6. Give Bullet-Proof Guarantee About Hassle-Free Returns To Inspire Confidence
Confidence-boosting guarantees are not for the festive season alone, you must feature them on your product pages throughout the year.
But during the seasonal sale, your site will attract many new visitors.
These visitors could be skeptical about buying for the first time and this is what makes the guarantee section rather critical.
Set up the Guarantee box on the WooCommerce product page using Sales Triggers. Here's how it looks on WooCommerce product pages:

Also, watch this WooCommerce conversion optimization training video for more insights.

7. Mention The Estimated Date of Delivery For Local Visitors
The absence of a little piece of information about the estimated delivery details can break the deal.
During the festive season, people don't want to spend money on gifts that won't come home on time. That will be a complete waste of money.
Before placing the order, they want an assurance that their gift will be delivered just in time for gifting.
Take a look at how this store clearly mentions the delivery date and also creates a sense of urgency with the countdown timer:

They get all their visitors from the UK and there are no international deliveries- so it makes perfect sense to highlight the delivery details explicitly. Set this up using Finale for WooCommerce.
8. Launch New Deals In The Final Days To Encourage Last-Minute Shopping.
Top-converting stores like Amazon and Chubbies make the last few days of the sale really interesting.
Take a look Chubbies Thighber Monday campaign where they announced a new gift in every hour:

Click here to see how you can set up daily deals or even deals by the hour in WooCommerce.

9. Create Special Gift Bundles To Evoke A Desire To Buy
Most shoppers are indecisive. Just like me. If you can give us ideas and also tell us who that gift would be perfect for, chances are we'll end up buying.
Here's an amazing example of Beer Days. It's the Ultimate Gift Bundle for a friend:

This is not exactly a one-time product and their model of selling may be very different from yours. They are selling beers on subscription. Nonetheless, well-curated gift bundles will help you clock higher conversions in the holiday season.
Read more about how bundled products can help you increase WooCommerce sales.

10. Create Exclusive Quantity-Based Discount To Bump Up The Average Order Value
This example is amazing. Even though the free shipping threshold of this store is Rs.500, they lead the conversation with the amount you need to spend to grab the deal:

Instead of calling it a discount of 25%, they've reframed the argument to focus on the tempting deal.
The deal is well promoted and highlighted on the banner of the website; it's unignorable and unmissable. This is a brilliant strategy to up your average order value.

11. Run 'Buy More Save More' Offer & Offer Savings Based On Their Spending
If you want to increase the average order spend you need to think of smarter ways to encourage shoppers to spend more. We're not talking about scams here.
But genuine and robust strategies to show them the value of spending more in your store. 'Buy More Save More' is a great strategy that can nudge shoppers to shell out little more to get extra savings.
Take a look at this example from J.C.Penny, they've highlighted the two thresholds for savings:

12. Set Up Free Shipping Campaign Storewide Or On Hand-picked Items
Free shipping is a popular campaign with shoppers. There is a strange affinity with the word 'free'.
Several studies
have shown that free shipping increases the store's revenue and lifts its conversion rate.
Take a look at this holiday special, storewide Free Shipping campaign on PotteryBarn:

You too can choose free shipping over discounting to bump your revenue during the festive season. Read everything about free shipping in WooCommerce here.

13. Offer a Free Gift With Every Purchase For A Limited Time During The Festive Season
Introduce special free gifts, not available for sale on your site. Make sure these gifts are exclusive and desirable.
Just as kids adore the idea of getting a free toy with the Happy Meal, we as adults are no less. Our brains are wired to respond enthusiastically to freebies.
Take a look at this Halloween special free gift only for a limited time with every purchase:

What's the point of having great deals if no one knows about them? Start a countdown timer and send out emails to prime subscribers for the upcoming sale.
Send them a couple of reminders before you finally start the sale. Take a look at this email with the embedded countdown timer:

Click here to: Create emails with a countdown timer to show the deadline for your campaign.

15. Create Holiday-Themed Email Series To Help People Choose The Right Gifts
Do it like Zappos. I love this email from Zappos. It's a great way of being empathetic and offer the much-needed holiday help.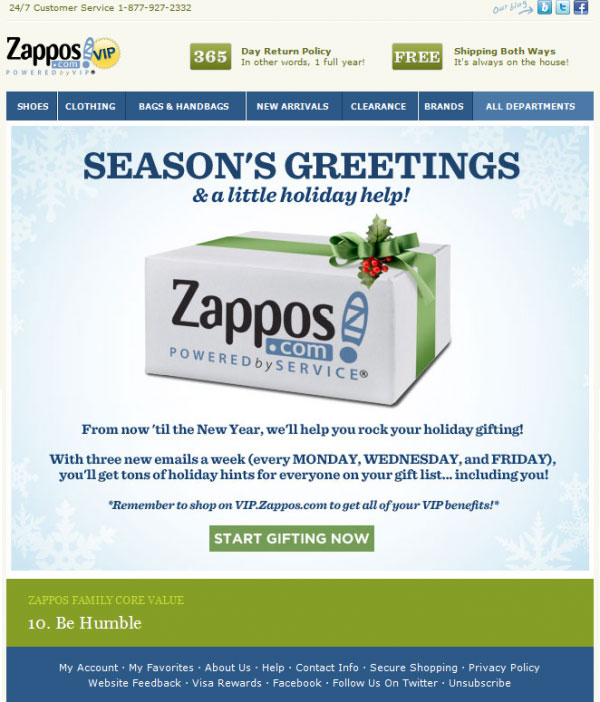 It is not a stand-alone email but is followed up by a series of emails to help people choose gifts for everyone on their list.
Self-gifting is an emerging trend in the eCommerce space and that's what reflects in this email too.

16. Send Out Nudge Emails Mentioning The Last Day Of Shopping For Just In Time Delivery
I don't recommend flooding your customers with emails. This will increase your unsubscription rate. But festive time is the time of the year when useful emails will be appreciated.
Time your emails right and don't send more than one on the same day. Keep the subject lines different from each other and send out fresh content each time.
The premise of this email is to remind them of the last shopping day for just in time delivery. I love this example from Bliss: 

Notice how at the beginning of email they've highlighted the last shopping day to get delivery on the 23rd December.

Promoting the coupon code is the key
. One way is to put it up in the sticky header and the other way is to post is everywhere on social media.
Talk about it, tweet out, Instagram it and post on Facebook- do whatever you can to spread the word.
Craft a desirable post that gives out the details about the sale, share the discount code and the deadline for the offer.

18. Create Dedicated Thank You Page For Holiday Season To Prime Buyers For The Upcoming Sale
Yes, you cannot start the Black Friday sale a month in advance. but here's a witty hack: You can start priming your buyers in advance.
By giving away important details about your sale on the Thank You pages. Create dedicated Thank You pages in the lead up to the holiday sale.
Here's an example of a personalized message on the Thank You page created using NextMove highlighting the upcoming sale: 

19. Reveal a Personalized Coupon Code On the Thank You Page To Encourage Them To Revisit During Sale
Start by promoting your sale well in advance. You can share coupon codes on the Thank You pages. They can participate in the sale early or come back later when your sale starts and use the coupon code.
You can write a custom message to your Thank You pages and share the time-sensitive coupon code with your buyers: 

Get more out of your WooCommerce Custom Thank You pages. 

20. Insert Thank You Note With Discount Code In The Packaging
Print out the coupon code and send it with the packaging. It's an effective way to encourage people to make their next purchase. The coupon code gives them a headstart: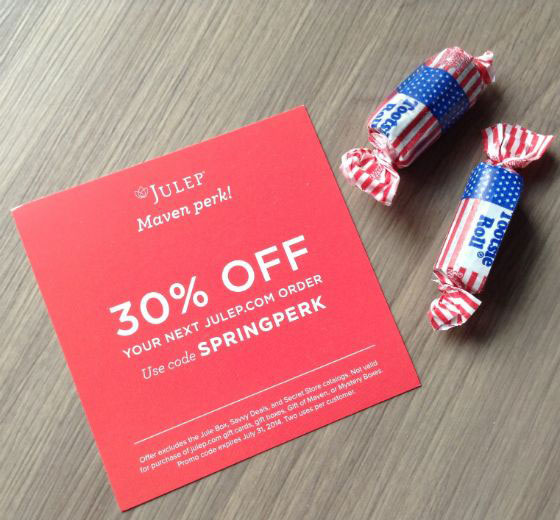 The note feels special and since they've just bought from you, they already trust your store. Now is the time to take the relationship forward and lead them to their next purchase.

21. Follow Up With Personality-Infused Cart Abandonment Email To Drive More Sales
When you drive new visitors to your store during the festive campaign, they may develop cold feet after adding items to their cart. They never bought from you earlier. Feeling skeptical is natural.
Make sure you have witty and personality-infused cart abandonment emails in place. These emails can help you win back their trust and drive them back to your store.
Take a look at this on-brand email from Chubbies.com, it's simple and conversational:

Timing is important- send the email an hour after the cart is abandoned. And don't forget sale is often in the follow-up. Explore the cart abandonment pro plugin from Tyche Software.

Bonus: Configure Out of Stock Product Box On Your Out of Stock Items
It's a festive season, your products will run out of stock. Instead of showing a dead-end message that simply says 'this product is out of stock', use it as an opportunity to capture leads.
Ask your shoppers if they would like to get notified when you re-stock the item. Take a look at this impressive Notify Me box:

Learn more about turning out of stock WooCommerce product pages into a goldmine of new leads.

Ready To Clock More Sales This Holiday Season?
The best thing about the festive season is that shoppers' are in an excited state of mind. They will spend on gifts for friends and family. And with the emerging trend of self-gifting, they'll also buy gifts for themselves.
You can either jump in and make the most of this opportunity or remain a mere spectator.
The choice is yours any day.
Will you jump in, apply these techniques and conquer your holiday sales?
Leave me a comment. 🙂 Happy Holiday Sales!