How They Made Their Black Fridays a Smash-Hit Success (Live Examples)
The Black Friday weekend is just about to get over.
We couldn't help sharing what XLPlugins users are doing with Finale, Sales Triggers and NextMove to multiply their revenues.
Their Black Friday sales case studies are interesting, insightful and most importantly – inspiring! They didn't choose to be mere spectators in the game but jumped in to turn frenzy into sales.
We were so thrilled when we looked at all the action in their store! And I can't wait to share it all with you in this post. So without further ado, let's get started.
Your tool (Finale) helped me increase sales by over $6000 in one day. My store does over $100k per month but in just one day I had $6,000 increase over my normal daily sales, after I installed Finale!  – Burgess Xavier, WooCommerce store owner & a proud Finale user.
#1: The Sticky Header Primes & Preps People to Participate In The Sale
The sticky header from Finale beautifully rolls down and captures the spotlight. It works like a charm and shares the important information about the ongoing sale with the shoppers.
Take a look at how brilliantly Earhoox.com used the sticky header with the countdown timer: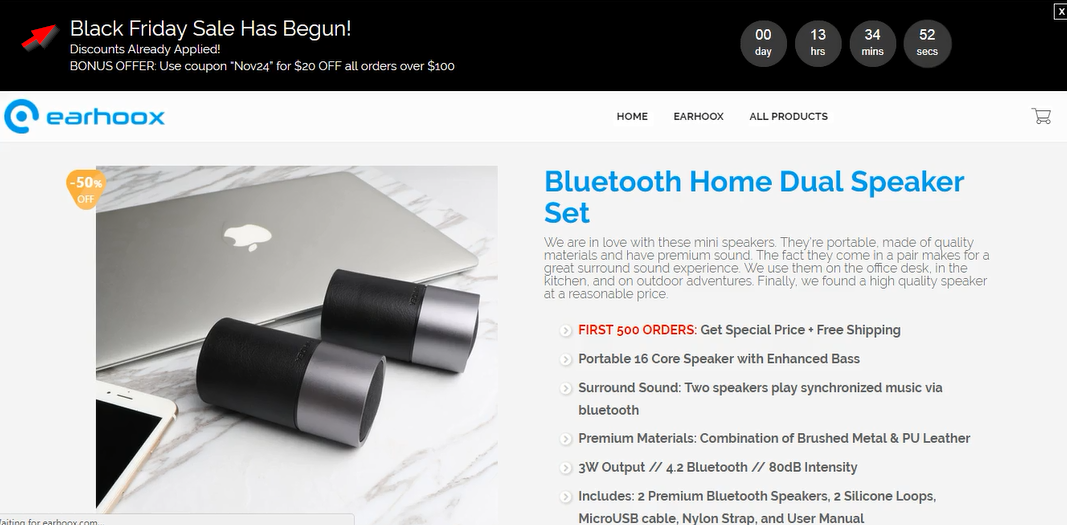 The black sticky header looks stunning and grabs attention instantly. The messaging too is succinct and the offer is clear & compelling.
To dial up the urgency and trigger a desire to buy right away, they changed the offer on Cyber Monday: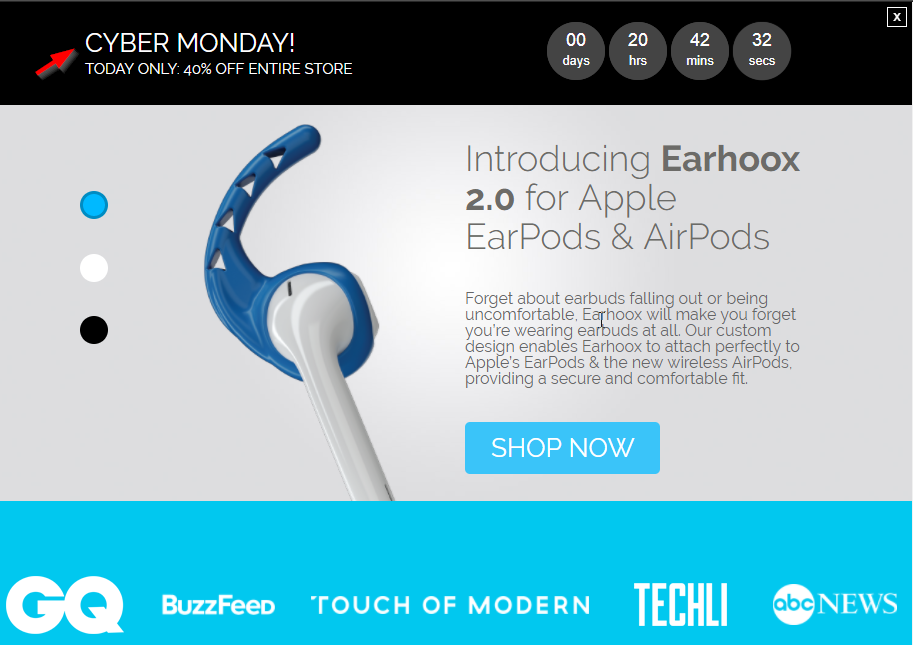 This strategy is indeed brilliant because it bring a newness to the game. Because of the new offer, even people who participated in the Black Friday sales can come back to shop on the Cyber Monday.
Both the deals are exclusive and time-bound. Persuasion force multiplied!
Here's a brilliant example from Finale user, TheBestVape. They used the sticky footer to highlight the coupon code. The Call To Action button directs people to a specific page with the deals.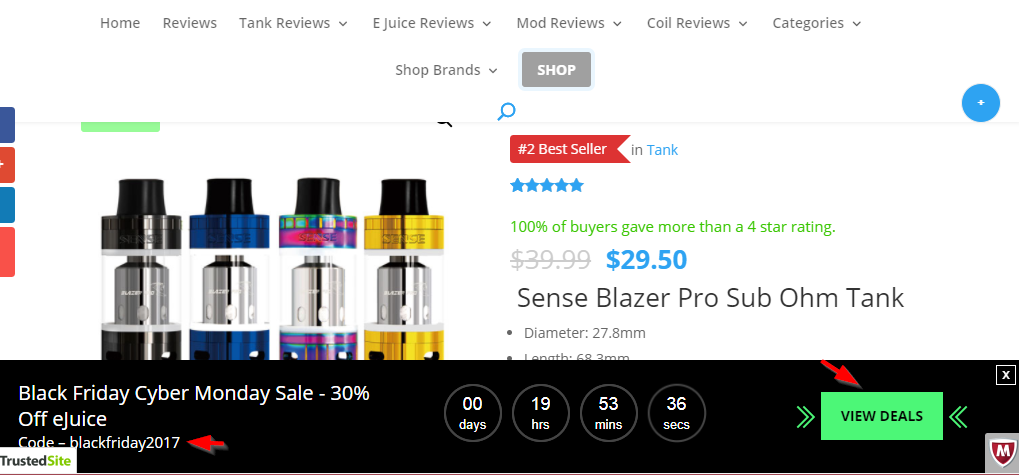 This technique helps ensure that people don't miss out on the coupon code.
Do you the best part about it?
When you send out email to your subscribers informing them about the sale, the sticky footer will carry the conversation forward.
#3. The Counter Bar Highlights The Remaining Items At The Special Price 
Scarcity increases exclusivity of an item and amps up people's desire to own the product. Counter bar works like a charm and informs people about the items left in stock.
It's even more powerful when it tells them the items left in stock AT THE DISCOUNTED PRICE.
To a shopper this means if they don't act fast and lock the item, they'll have to get it at the original high price just like everyone else. Take a look at this powerful product page by UK-based store & Finale user, ABC Prints: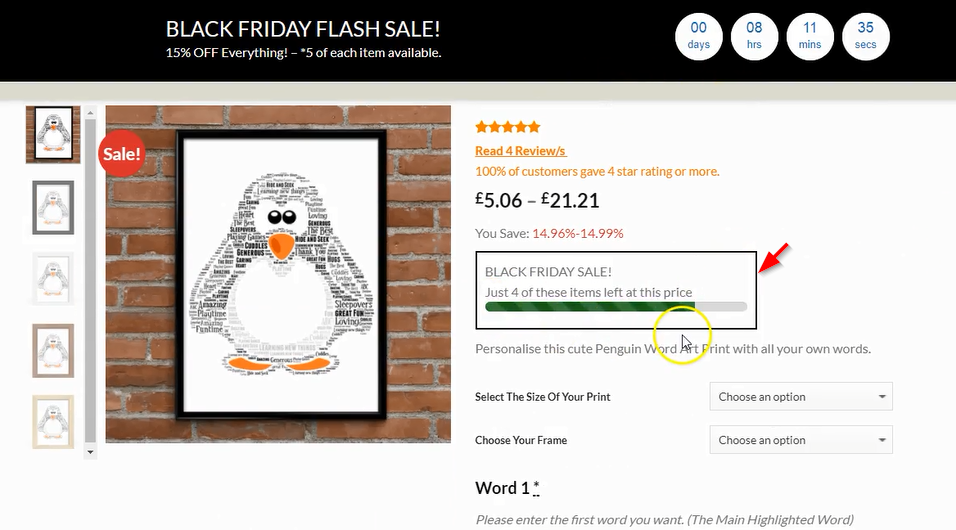 Did you notice how the counter bar says 'Just 4 of these items left at this price'. The counter bar is showing the remaining units in solid green color and sold units in grey. Compelling!
#4: The Countdown Timer On Product Pages Nudges People To Avoid Delays
Another brilliant example from earhoox.com with a well-highlighted countdown timer on the product pages: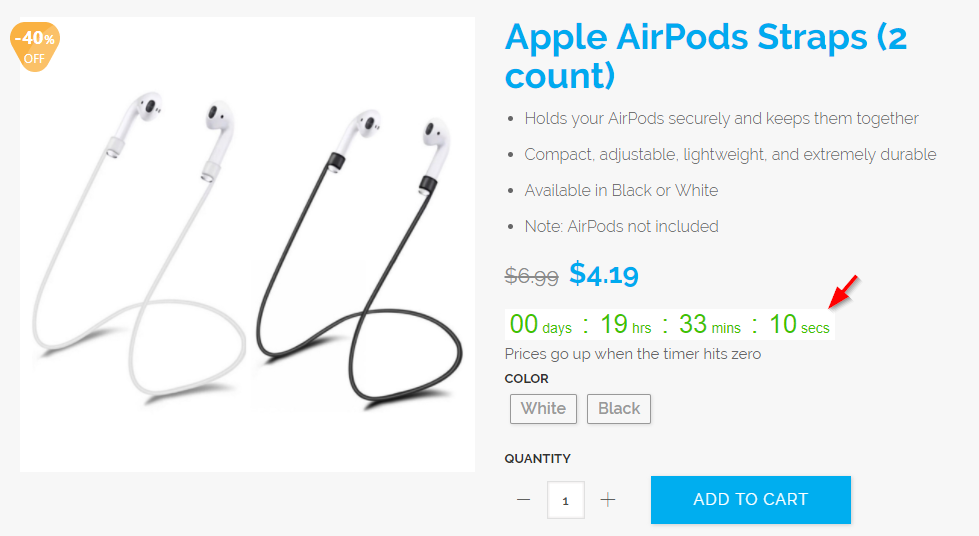 #5: The Deal Pages Highlight All The Deals on a Single Page To Make Choice Easy 
The Deal pages help store owners put all their deals on a single page. This way shoppers can simply scroll and view all the deals on a page. It makes the process of selection zippy and hassle-free.
Here's a brilliant example by Brazil-based store Cormilu.com- they used Finale deal pages to highlight all their deals on a single page: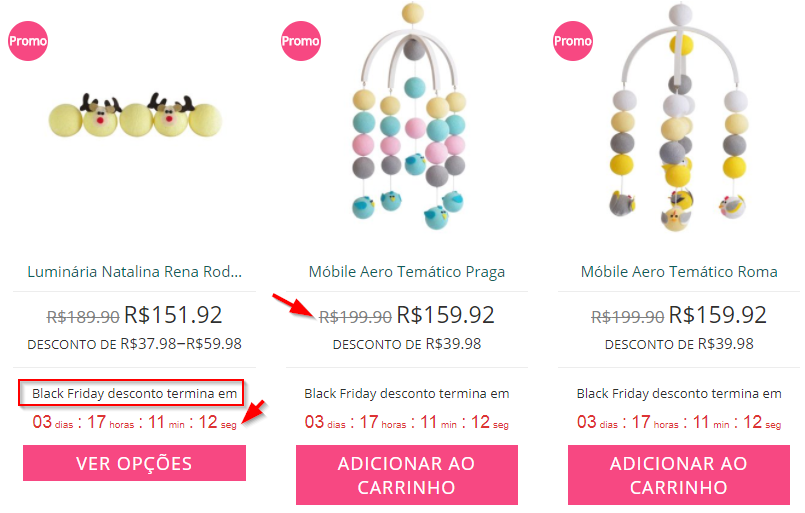 This page is a paradise for shoppers. They can see all impressive deals with the savings they'll make on one page.
Ok so yesterday I bought the Thank You page plugin from these guys. I had an awesome experience with great support. So today when I needed an urgency plugin to help push buyers to buy now I came straight back to their site.

Phew! They had a plugin to do the job and in a massively better less annoying way than popups. Finale is brilliant. Really slick, easy to use and I've got urgency headers, footers and more configured in just a few minutes. – Noel
Explore Finale Sales Countdown Timer & Discounts Plugin for your WooCommerce store. 
Watch this video to see Finale Sales Countdown Timer & Discounts In Action 
#6: NextMove Increases Conversions After The Initial Sale Is Made
Here's the thing: After shoppers have made their first purchase they are 5 times more likely to buy again from your store because now they trust you. You can either bid them goodbye or give them another compelling reason to shop.
NextMove users did the later and used Thank You page as a golden opportunity to draw buyers back into the funnel. Take a look at this beautiful NextMove thank you page by The Best Vape, they share a discount coupon code in the buyers' name along with the deadline details: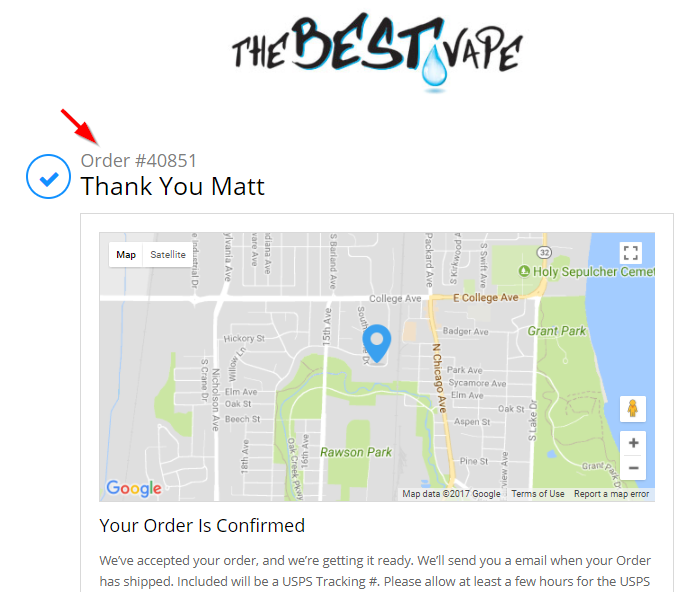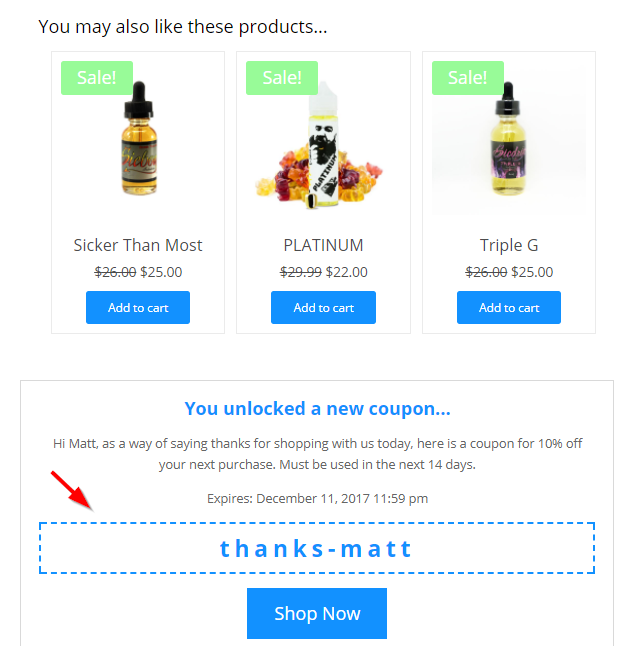 "I can confirm NextMove is a WONDERFUL plugin. After I added social sharing + coupon for next order, conversions went up with an average 19%!! It's an amazing plugin and works beautifully with the Flatsome theme."  – Fabio Tielen, WooCommerce store owner & a proud NextMove & Finale user. 
Explore NextMove for your WooCommerce store>>
#7: Sales Triggers Turns Bland Product Pages into Conversion Machines
A lot of store owners direct paid traffic to their store but what's the point if the product pages are lousy and low-converting.
Sales Triggers & Finale client, TheBestVape used Sales Triggers to make the product pages persuasion powerhouses.
The Best Seller Tag and Reviews Triggers in action


The best seller tag establishes credibility. Further the reviews trigger shifts the conversation from 'this product got 5 reviews' to '100% buyers gave it a 4 star rating.'
Further they used the Guarantee box and the Recent Sales Activity Insights triggers on the product page: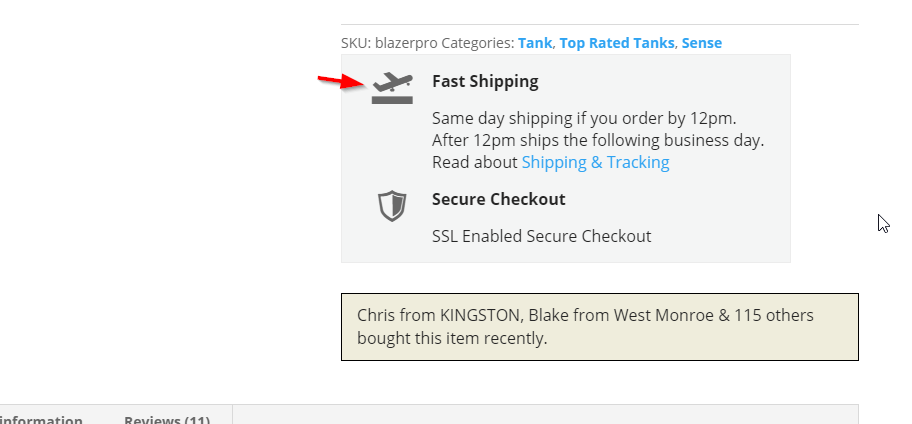 Here's another example of the Guarantee Trigger: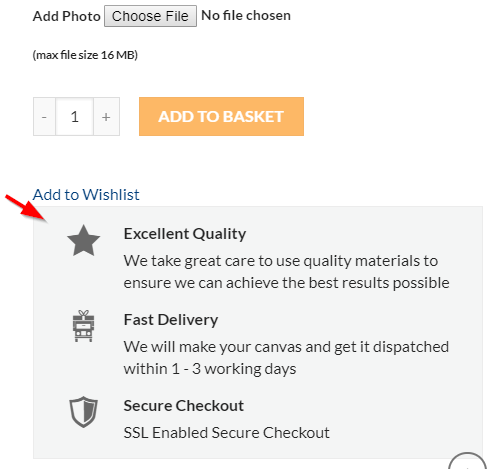 Needless to say that people have a lot of last-minute objections that come in the way of sales. TheBestVape has handled those objections like a pro with the guarantee-box.
The sales activity insight leverages the power of social proof to trigger a desire to buy. One thinks that so many people can't be wrong, the product must be good!
How Did You Rock Black Fridays & What Are Your Plans For Christmas Sales?   
Alright! So I am going to leave this question to you. Let me know how Black Friday was for you.
Did you set up sales in your store?
If yes, how did it go? What were your big learning and insights?
Leave a reply in the comments box below.