WooCommerce Free Shipping: Unleash The Power Of The Most Popular Promotional Offer
Do you know the #1 reason for cart abandonment in eCommerce stores?
It is unexpected shipping costs. The idea of paying more than the item's actual cost drives shoppers away from the purchase.
No wonder, free shipping is known to be the best marketing strategy for store owners.
But you've heard that before, haven't you? You know the theory! However, in reality, paying to ship items can hurt your bottom line and squeeze your margins.
I hear you on that.
So could there be some clever ways to unleash the power of the most popular promotional offer?
That's what we're discussing in this article today! We'll go over some of the most effective ways to increase sales with free shipping promotions without hurting profitability.
1. Free Shipping On All Orders over $X (Set your threshold value)
A case study published by VWO.com revealed that NuFace, a popular eCommerce cosmetic store increased their average order value by an impressive 7.32%.
They set the free shipping threshold at $75 and clearly mentioned the limit on their store. This gave shoppers a clear and compelling reason to spend more.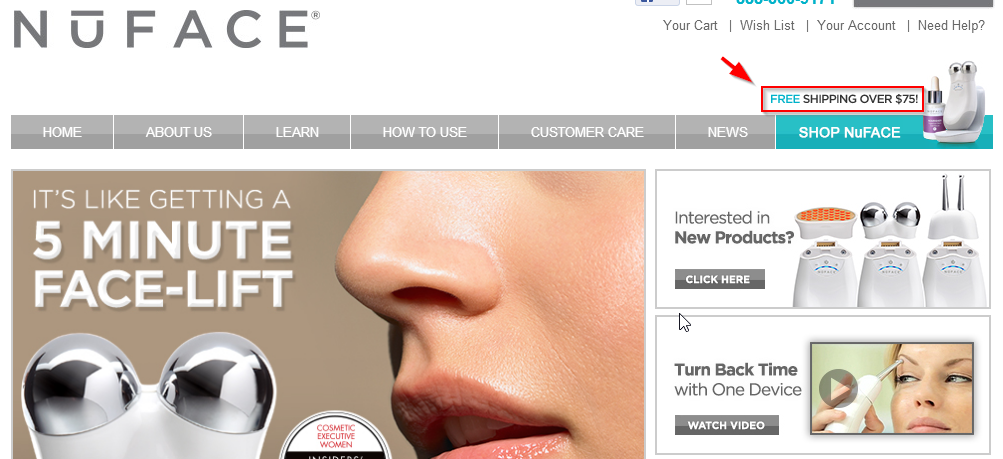 And the jump in orders and order value was noticeably impressive. For the record, their average orders increased by a whopping 90%!
If you haven't set up the free shipping threshold in your WooCommerce store yet, here's how to do it:
Step #1: Create a new coupon in WooCommerce and check to allow free shipping
I've named the new coupon code 'Free Shipping' and added the description.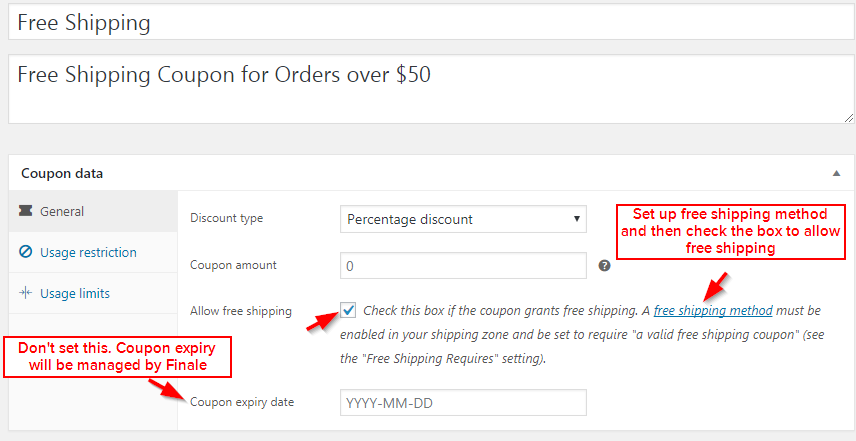 Note: Make sure you set the free shipping method in shipping zones section in WooCommerce.
Step #2: Set the minimum spend in the 'usage restriction' tab
In this case, I've set it at $50. Now shoppers will have to spend a minimum of $50 at the store to qualify for free shipping.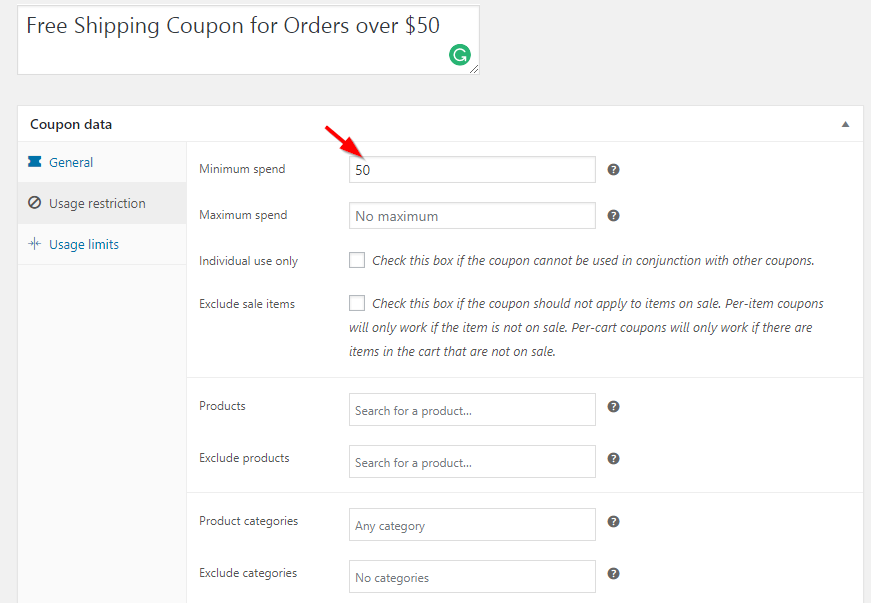 Step #3: Head out to Finale settings and create a recurring campaign. Select 'never-ending'
With a duration of 1 day and pause period of 0, this is a never-ending campaign. It's a recurring campaign and not one-time campaign type because we want to offer free shipping all year round.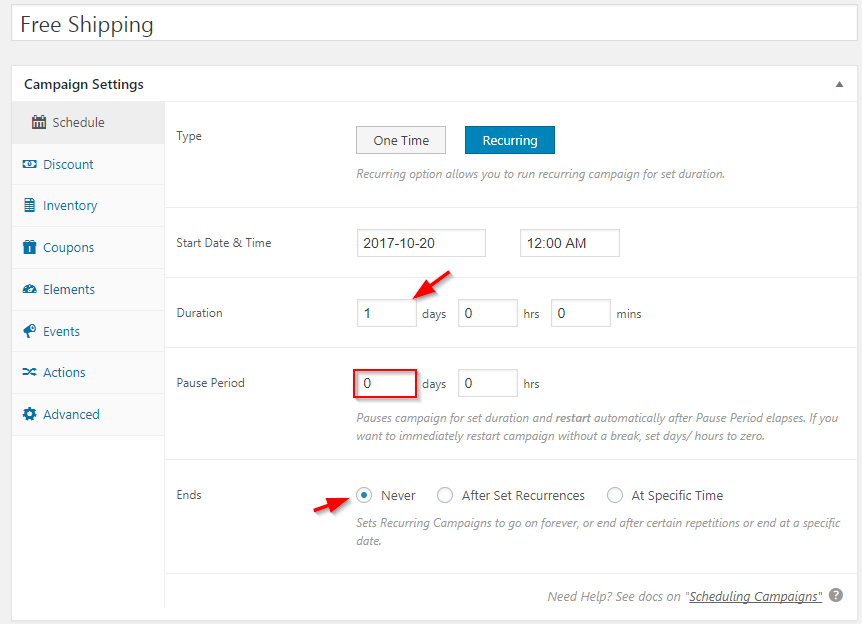 Step #4: Go to coupons in Finale and configure all the coupon-related settings
When you head to the coupon section in Finale, you'll find a plethora of advanced coupon-related options.
Select the coupon from the drop-down that you created in the previous step. In this case, it's Free Shipping: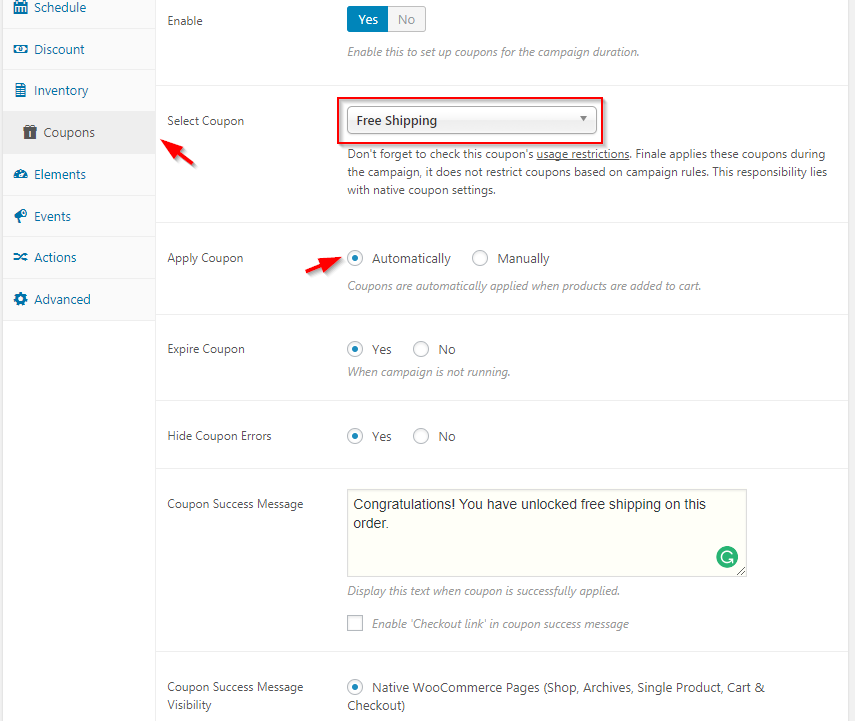 Notice, we've selected 'Automatic'- the coupon will now be automatically applied when the user adds the item to the cart.
They do not have to enter the coupon code manually.
Step #5: Go to Elements >> Sticky Header>> Write a message to inform visitors about the free shipping threshold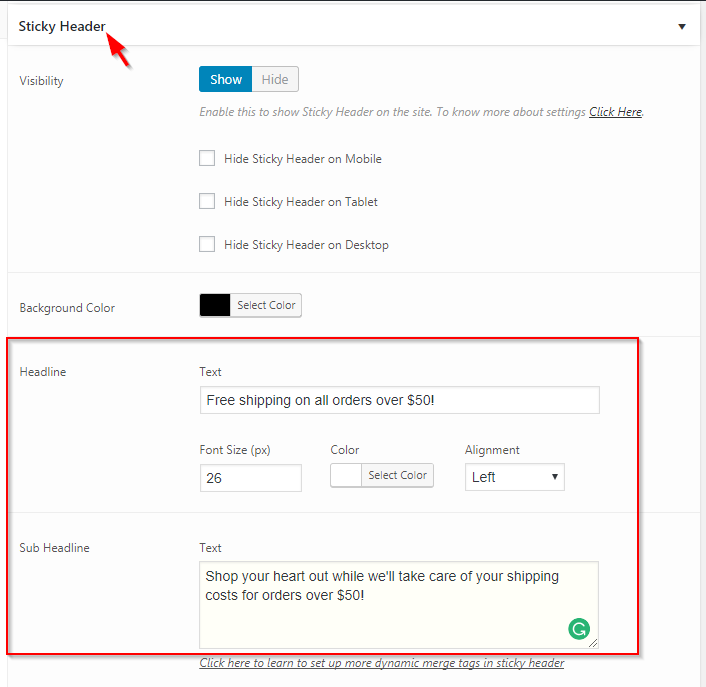 Once you have configured all these options, press update and you're ready. Here's how the sticky header with the information will appear on your store:

2. Free Shipping For a Limited Time (During a Festival)
While it may not make financial sense to offer free shipping all year round, doing so, during the festive season, it can be a great strategy.
Limited time free shipping makes for a great offer and a credible reason for people to shop from your site.
Let's be honest:
The competition is aggressive during the festive time and limited time, 100% free shipping can give you the much-needed edge. Start a countdown timer on your site to inform people about the time sensitivity of the offer.
If they do not know that the offer is expiring soon, they won't have the urge to act fast! So let me show you how you can set up a time-sensitive free shipping offer in your WooCommerce store.
But first set up the free shipping method in your WooCommerce store. Read this documentation to find out how to set up the free shipping method.
Step #1: Go to coupons in native WooCommerce and create a free shipping coupon.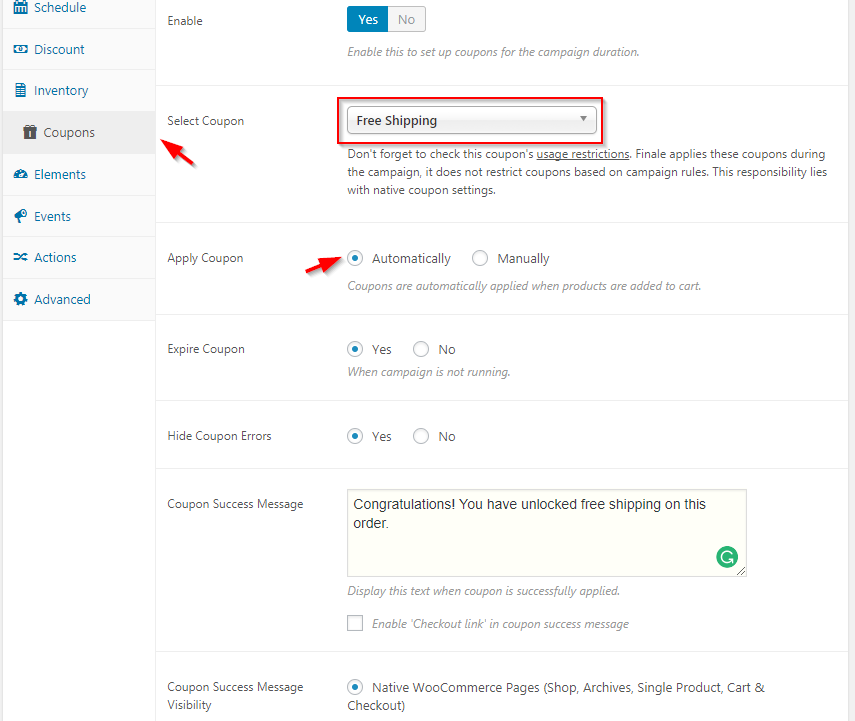 Step #2: Go to Finale >> Schedule a one-time campaign. Select start date/time and end date/time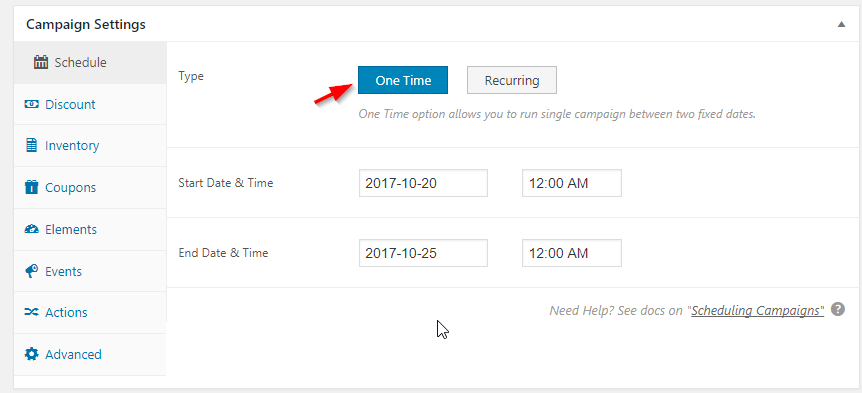 Step #3: Go to Finale Coupons >> Enable Coupon >> Select the exact coupon name from the drop-down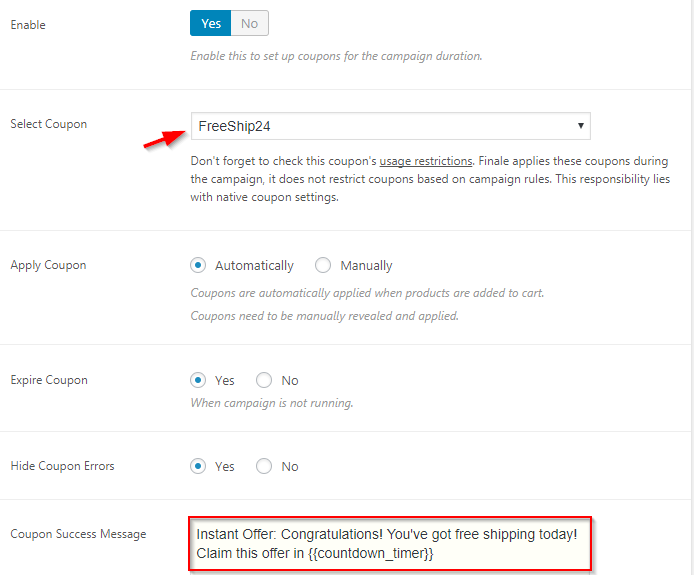 When you scroll further down, you'll get more options to customize messages related to the free shipping coupon: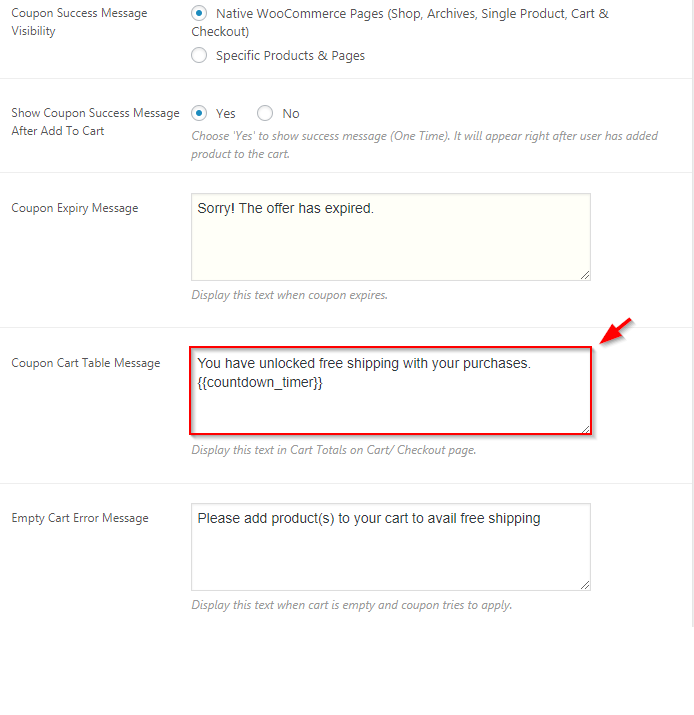 With Finale, you have plenty of advanced options in coupons. You can custom-write the success message, add a countdown timer to the messages, create custom expiry notice and more.
Step #4: Go to Elements >> Sticky Headers >> Craft a message to inform shoppers about time-sensitivity of the offer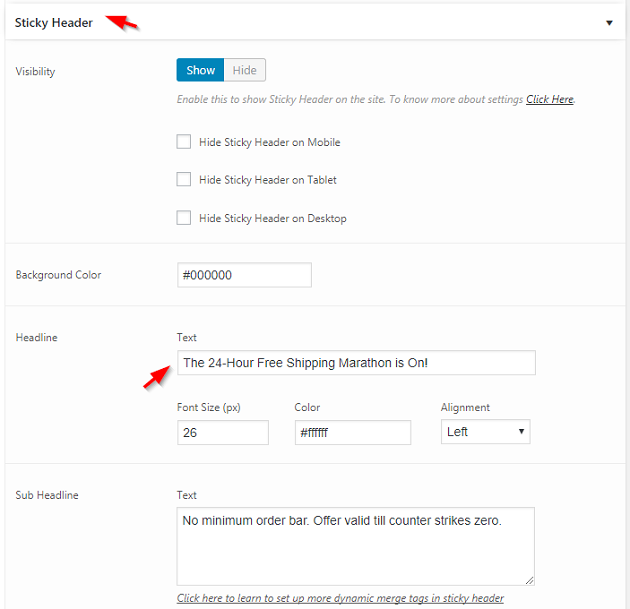 Turn on the countdown timer that runs till the offer's still valid. A ticking countdown timer acts as a constant reminder and prevents shoppers from procrastinating.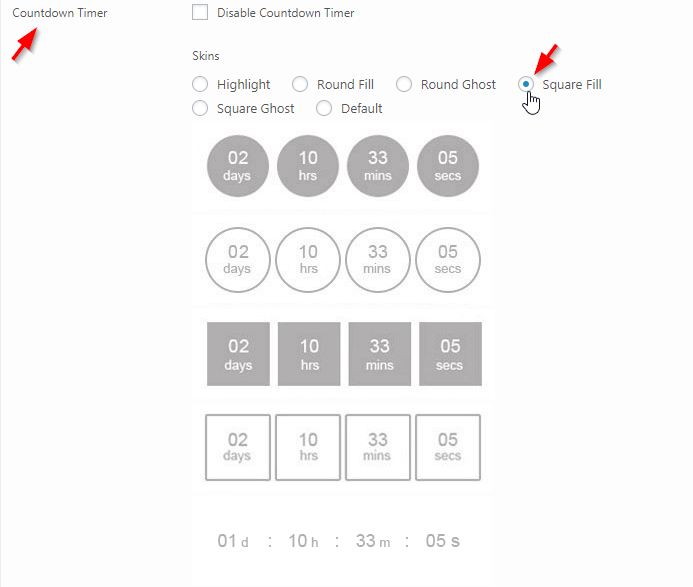 Step 5: Go to rule builder >> Always
This means that the sticky header with the details about the free shipping offer will be visible on every single page of your store.


Update these changes and view it on the front end. Here's how the sticky header looks: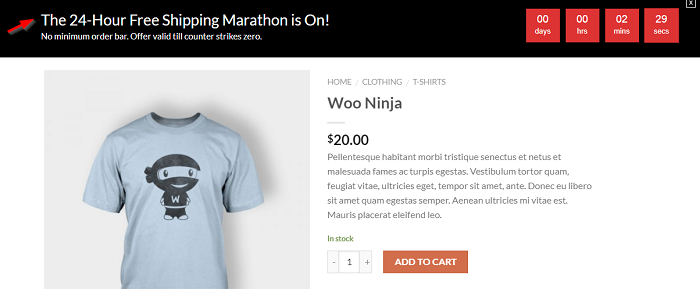 When your shopper adds the item to the cart, the free shipping offer will be automatically applied. And the countdown timer will also start to show up on the cart pages:


This countdown timer is coming from the merge tag that we added in the step #3. This constantly nudges shoppers to take faster action and complete their initiated purchase.
3. Celebrate The Free Shipping Day – December 15, 2017
Free shipping is an annual one-day event held in mid-December. The idea is to encourage shoppers to buy from your store.
You can use this day as an opportunity to invite new visitors to your site. It'll work really well if you promote it in the right manner.
So it's important that you build hype as the day approaches and promote it everywhere- on social media, emails and your store. Highlight this message on your product pages too.
Here are two powerful ways to generate buzz before & during the free shipping campaign:
Send emails with a countdown timer to build hype in the lead up to the free shipping day
First, create a fixed campaign and select the start date/time and end date/time.


Next step is to generate shortcode for the countdown timer, you'll see a range of countdown timer formats. Choose one of these:


Select one and click 'Generate Image', you'll see the preview like this: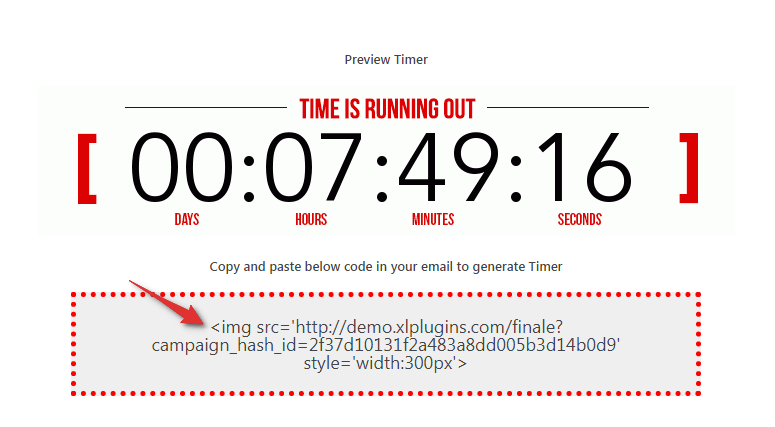 Now copy this shortcode and paste it into the email template. In this case, I'm using MailChimp, you can use any email service provider you use: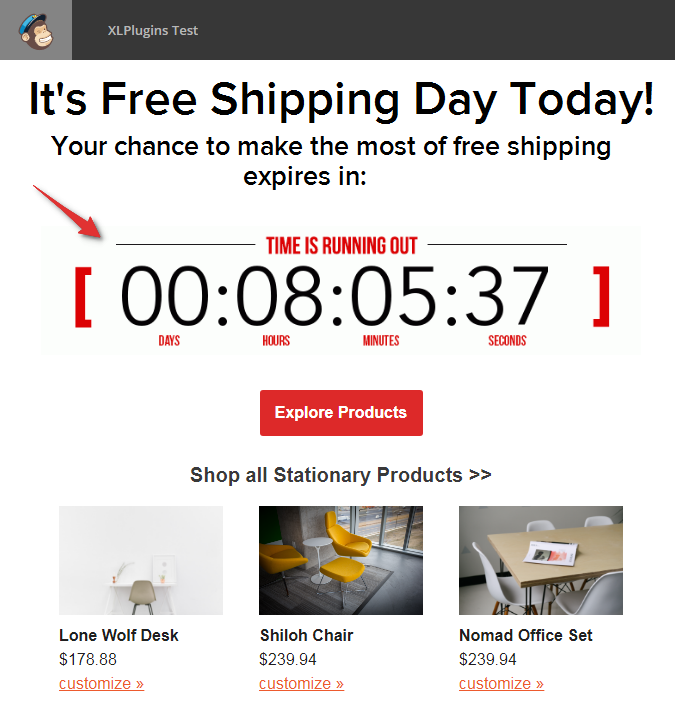 You can send out the emails with a countdown timer to remind your subscribers about the time sensitivity of the offer.
Create a Custom message for every product page to inform visitors about the free shipping day
You can add custom text message on product pages to inform visitors about the free shipping day in your store. Here's how you can edit the custom message: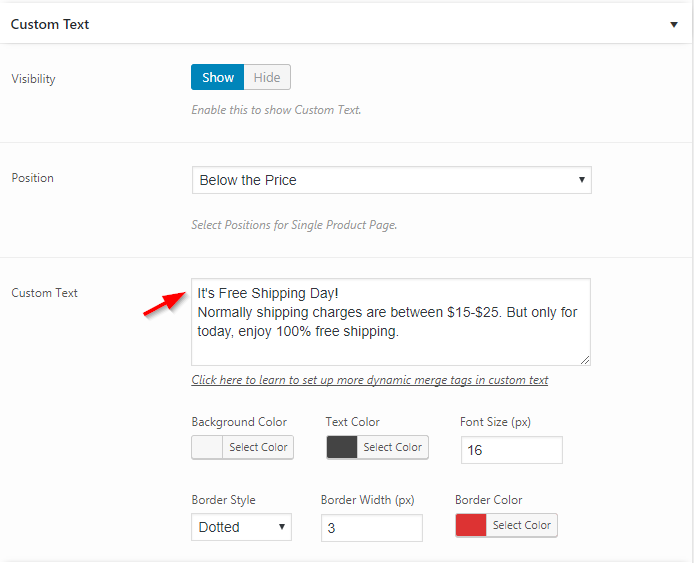 Press update and here's how the message will appear on the product pages: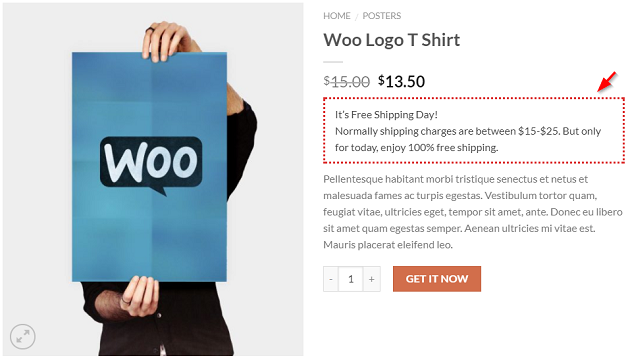 Set Up Free Shipping Campaign Step by Step [Video]
The truth about free shipping
Free shipping can increase your average order value, it can drive more visitors and boost your store sales. Think of it as a marketing expense which has an ROI attached to it.
So don't be reluctant about free shipping. Promote it well in your store and it could prove to be a more lucrative business strategy than offering discounts.
Make the most of the holidays such as Independence Day, Memorial Day, Labor Day, Thanksgiving, Black Friday, Cyber Monday, and others by creating enticing free shipping offers.
Good luck with the festive sales! Wish you a lot more cha-ching!