WooCommerce Thank You Page Hack:
Turn Buyers into Your Selling Engines & Get Quality Traffic
So what does it mean to make your buyers selling engines?
It means they'll do the selling on your behalf and spreading the word about you to their friends.
And encourage their friends to browse your selection. In short, they'll become your best marketers.
That's perhaps every store owners' dream. Isn't it?
What could be better than your customers recommending your store to others and doing it proudly! I am here to tell you it's possible.
Your buyers can direct quality traffic to your store when you apply this hack.
Turn Your Buyers Into Your Best Marketers Using This Thank You Page Hack
Fact: Your customers will be friends with people like them. This means when they promote you, you'll reach out to others in the same demographics with similar spending powers.
Their interests, needs, and behaviors will be aligned.
You pay Facebook to do the same thing for you. You pay to create lookalike audience. And pay a lot.
Well now, your Thank you pages can do that for you on automation.
Yes, you heard that right. Every time, your customer buys, you direct them to the Thank You Page.
Currently, this is how your Thank You Page looks:
Now, this is a lame Thank You page. It only shows the order confirmation message with order and customer details. This page is a dead end.
Your buyers have no option but to move on. And that's exactly what they do!
So if you've been wondering how to get more traffic to your store, build a bigger community and sell more to customers then I must tell you, the goldmine is hidden in your Thank You pages.
You've underestimated these prime real estates for way too long! But now no more.
Here's the simple hack: Don't end the conversation on the Thank You Page. Your customer has just bought from you and is in the buying momentum, take the conversation forward by directing them to well-thought options on the Thank You Page.
Their recent purchase has induced dopamine rush in their brain- appreciate them for placing the order and give them the option to share it with others.
Here's how Amazon takes the relationship forward on the Thank You page with 'Share your order' feature:
High-converting store, Etsy – takes it a notch higher by placing the coupon code on the Thank You page:  
GoDaddy too thanks customers for their purchase and then presents them with a coupon code right after:
These high-converting stores know that people are in the right frame of mind on this page, they just punched in their card details and already trust the store. Also, at this point in the funnel, their attention is undivided.
Revealing coupon codes on Thank You Page ensures that you get repeat orders and your buyers spend more cash on your store. 
This makes for a perfect opportunity to take the relationship one step forward.
Wondering why this works like a charm and can double up your sales? Got you covered. Keep reading.
Why it works: The Answer Lies in Psychology of Commitment & Consistency
According to the psychology of commitment and consistency, people feel obligated to continue performing additional actions once they've performed an action before.

Once a person has bought from you and has committed to a request, a bond is created between the two of you.
They then feel compelled to agree to more requests you make.
Sharing on social is one of them and cashing on a coupon code is the other.
This means your buyers are psychologically wired to buy more and have an innate desire to spread the word out about you.
They are primed to take their next move and be consistent with their last action. They've just purchased from you and can't help it.
You just have to ask and time your ask right.
Deploy This Powerful Hack On Your Woocommerce Thank You Page
If you are a WooCommerce store owner, you no longer need to direct your buyers to dead end Thank You pages. You can now direct them to one that empowers them to spread the word about you & increase your sales.
Also, you can now reward them for sharing about your store with their friends by giving them a coupon code in return.
Yes, as simple as it sounds. They share about you with their friends (direct qualified traffic to your store) and in return, you unlock a personalized coupon code! And that encourages them to buy more. That's Smart Bribe.
Here's how your new Thank You page with the social share + coupon as a reward component will look: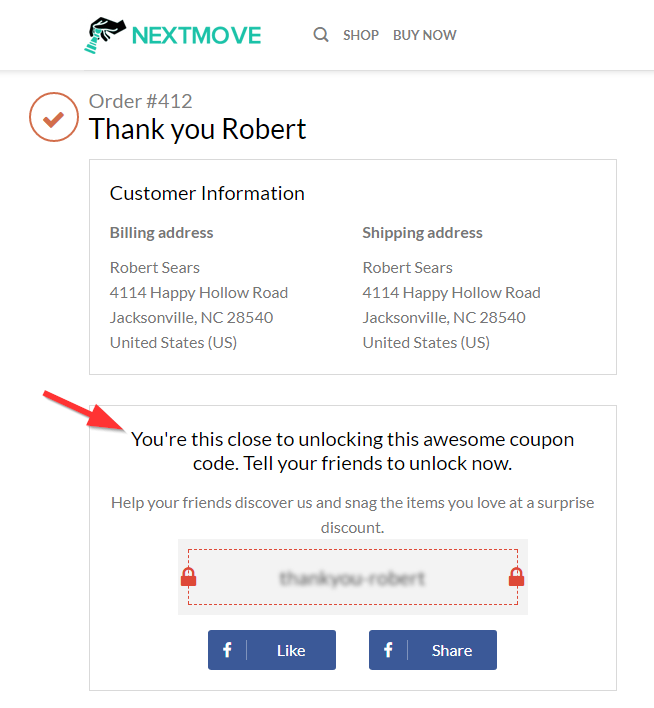 This component is called Smart Bribe.
Here's how Smart Bribe works: When your buyer shares about your store with their friends or like your page, a personalized coupon code is unlocked and activated.

They can use it right away to make another purchase or give it to a friend.
The best part about this coupon code is that it's personalized. You can make their first name a coupon code, or their email or phone number could become the code. Now even if they share it with their friends, it'll make them feel very special.
This technique helps you reach out to your ideal target audience- a cold audience that can turn into your customers.
Why would you miss this chance of acquiring more traffic and sales? You're right, you won't.
And that's why let me introduce you to Next Move. Smart Bribe is part of Next Move.
NextMove is a Thank You Page plugin for WooCommerce stores. It allows you to build profit-pulling Thank You pages with plug & play components in minutes.
You get access to 17 components, some of these are Smart Bribe, Dynamic Coupons, Recommended Products, Recently Viewed, Upsells/Cross Sells, Thank You video & more.
Explore Next Move for Your WooCommerce Store
With Smart Bribe activated on your WooCommerce thank you pages- simply sit back and watch your customers turn into your best marketers, bring quality traffic to your store and trigger more sales.
Watch me deploy this hack, step by step on my WooCommerce Thank You Page: 
3 Easy Steps to Set up Smart Bribe on Your WooCommerce Thank You Page
Get Next Move for your store and follow these steps:
Step #1: Select 'Smart Bribe' component from the menu
There are about 17 options in this menu. Each of which is actually a component to build your Thank You page. You can pick and choose whichever components you like.
For this article, I'll restrict myself to 'Smart Bribe'.
Step #2: Click to edit the 'Smart Bribe' component
As you can notice, you can add the heading, subheading, your Facebook page URL and more on the edit component page. As you scroll further down, you can select the coupon options and more.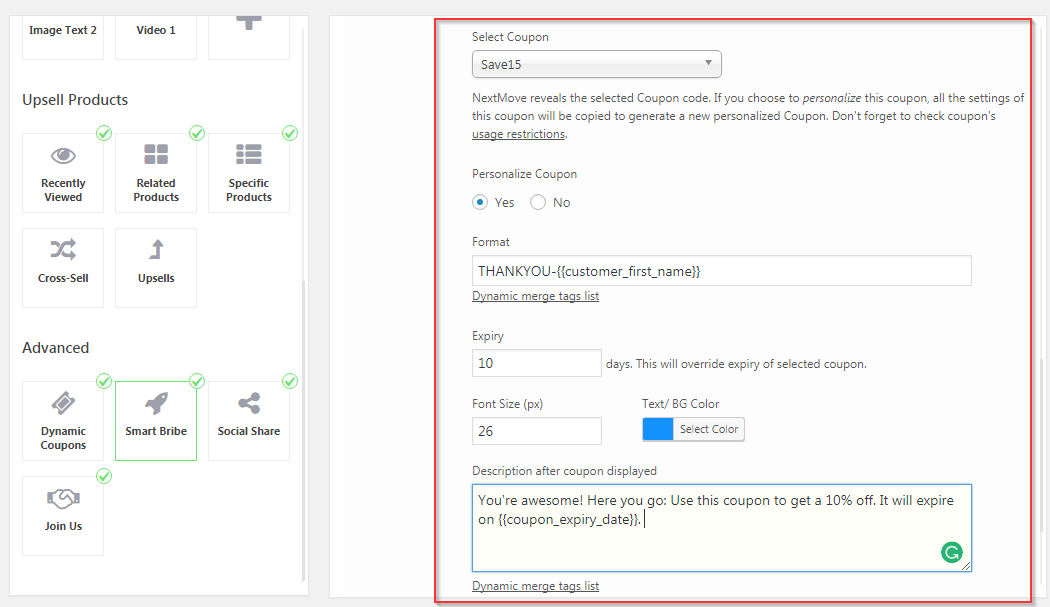 Notice we've selected personalized coupon. This option displays a dynamic coupon, generated in your customers' name. You have access to a range of dynamic merge tags to generate the coupon code in.
Also, there's a merge tag for coupon expiry. We've added that merge tag too in the text so that the user feels a sense of urgency and does not sleep on the coupon code. But uses it.
Step #3: Arrange the components
Simply drag and drop 'Smart Bribe' component based on where you'd like to display it on the Thank You Page. It's pretty intuitive so you haven't much of a problem in figuring this out.
Next, hit save and preview. You're all set to go live.
When the user clicks on 'Share', here's the custom text option they can see. It's pre-filled and you have the option to edit that from the back end.

Here's how the coupon code gets revealed after the user shares on their timeline:
The coupon code is in their name, you could also make their phone number a coupon code. A personalized coupon code compels people to take action, even if they want they'll find it hard to sleep on it. And if they share with a friend, they'll feel good about it.
You can pick a merge tag from this elaborate list to personalize the coupon code:

This will help you create a delightful experience on your store. The best part? You're not ending the relationship on the Thank You page, you're giving them a reason to feel good and
You may be thinking:

"Why should I wait till the Thank You Page to give a coupon and get a share? Why not put it anywhere else on the store? "
Your concern is 100% valid. I understand out of say 100 people visiting your store maybe just 5 will make it all the way till the thank you page.
But here's the thing:
That's your qualified traffic. The small set of visitors who turn into buyers are your best people. They have the spending power and the need for the products you're selling.
When they spread the word, it'll be to the other ideal prospects. Your buyers can direct ideal prospects to your store.
The best of all: When you reveal the coupon code the Thank You page, they can use it right away or later but you'll get repeat orders on autopilot.
Finally, anywhere else on the store, you have a single conversion goal i.e. to get them to swipe their card. You don't want to distract them with this. But on Thank You page, you have their undivided on attention.
Make the most it or continue leaving money on the table. This choice is yours to make.
What's Next
I invite you to put together a system them that does the selling on your behalf. Stop directing your customers to dead end Thank You Pages, inspire them to take their next move.
Don't miss the chance of turning your buyers into instant selling engines.
Explore Next Move for Your WooCommerce Store