How To Create Authentic Scarcity And Sell Out Your Inventory
Scarcity increases perceived value of a product. When you find out something is scarce and everyone cannot have it, your desire to own it goes up.
The major reason why scarcity is so powerfully persuasive and works like a charm is that people hate to be left out of the loop. The fear of missing out keeps them from delaying an action or sleeping on their buying decision.
Having said that, scarcity needs to be used responsibly. People are more and more wary of being tricked or falling for a trap. Creating an authentic sense of scarcity is the key here.
So how can you trigger an authentic sense of scarcity in your shoppers?
Be transparent with your shoppers about the remaining stocks in your inventory
If you're saying through your scarcity marketing campaign that 'stocks will run out' then make sure the product is not available for purchase after the campaign has ended
If you're selling a product at a certain price only for limited duration, then make sure that after the time period ends, the product prices do restore to normal
If you have a ticking countdown timer or counter bar showing the stock size in real time- make sure they don't reset every time someone refreshes the page
People want to buy items that are scarce – items that are running out because they believe the demand is higher. You need to engineer scarcity into your marketing in an authentic fashion.
Tap into fear of missing out and you will have shoppers queuing outside your virtual shop to lay their hands on your products.
Watch this video to discover how to create an authentic scarcity and sell out your inventory:
Don't have the time to watch the video? No problem. Read below:
Take a look at Amazon being totally honest about the number of items left in its stock here:

They also have a counter bar to show the real-time status of their deals and how many people have already claimed it:

You too can set up scarcity marketing campaign on your WooCommerce store. Take a look at how it will appear on your WooCommerce product page:

Noticed the prominent counter bar?
It lets people know about the items remaining in stock. This bar displays the depleting stock quantity in real time and as the items sell, the bar moves to show the actual status.
It says '2 items sold out of the limited stock size of 5 units' – these numbers (2 and 5) are being fetched from real the sales status – they can be entered too- but they can also be picked from the real sales data.
Now let me show you how to set this up on your WooCommerce product detail page one step at a time.
Step #1: Select the campaign duration (Fixed or Recurring)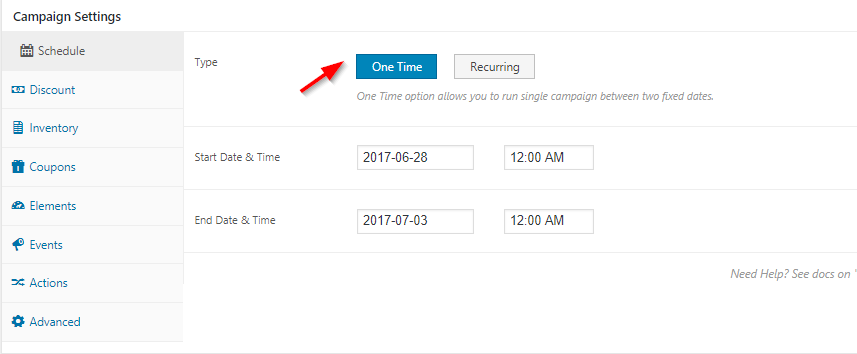 You'll notice, you've got two options- One Time and Recurring. Choose 'One Time' if you want the campaign to run between two fixed dates and time. Choose recurring if you want the campaign to recur after set intervals of time.
Step #2: Configure the inventory options

 Custom Stock Quantity basically means you can enter the stock quantity that you want to display on the front end. The counter bar will show what you enter here and that number will be shown as the remaining stock size.
When you select existing, the inventory size will get picked up from the individual product page.
Step #3: Set up the counter bar and configure the display options  

You can set up the counter bar color, border type, color, font sizes and custom text here. Here are some text options you can choose from:
Quick! Only 3 items left in stock. Get it while you still can
5 items left: The supplies are expected to run out by <insert countdown timer>
Limited-edition: We're only selling a 100 of them across the globe this season
Others are drooling over it. Get it before timer strikes zero
We're counting the last few items. Expected to run out by
This deal is exclusive. We don't have anything extra. Get it before the stocks run out.
Only 5 items left! More on the way but re-stocking takes time. Grab it while you still can
3 items left. Almost gone. Expected to run out in <countdown timer>
Don't miss out: Only 3 left. They are going quick.
They are back but only in a limited quantity. We're counting the stock
This is a seasonal item. We've got limited stock quantity. If you're considering, don't delay!
Step #4: Select where you would like the counter bar to be displayed 
There are 15 different rules you can set for your scarcity marketing campaign. You can choose products from the drop down and write the exact product names where you want to display the counter bar.
You could also set it up on all products in a certain product category.
Or choose 'Stock Status' and exclude Out of Stock products.
Or select 'Stock Quantity' and display it on products with a stock size greater/lesser than, say, X units. You can define that number X in the box on the right.

So with that, you're all set to run scarcity marketing campaigns in your WooCommerce store.
Currently, in WooCommerce, it's not even possible to start a campaign at a set time, configuring a counter bar to show real time stock status is a pipe dream.
 Finale makes it possible, so don't forget to check out what all it can do for you!